Sometimes you find yourself at the end of October, Halloween is a couple days away, you have no time to make a costume from scratch, and you'd rather not get whatever sad polyester witch hat is left on the bottom shelf at Party City. What's my go-to idea for a last minute costume? Punk versions of your favorite characters!
Punk AU (alternate universe) fanart has been popular for years. You can certainly browse Pinterest or Instagram to see these wonderful fan creations. But it's okay if you don't follow an artwork exactly, or recreate a character's costume accurately. Punk is all about attitude, individualism, and mixing and matching what you already own. 
That being said, some key factors that will help take your closet into punk territory tend to be:
Denim vest or jacket decorated with....
an abundance of patches and pins! Take advantage of any nerdy pins you own and incorporate them into a costume. (This also has the advantage of being removable so you're not permanently adding to a jacket!)
If you don't have enamel pins, adding lots of safety pins in fun patterns works too. If you don't have patches, you can use sharpie (on light fabric) or paint pens (on dark fabric) and make your own patches! Use felt or denim scraps, draw some punk art or words, and attach with safety pins.
Layering. Try a vest over a sassy fandom shirt, shorts with old and ripped tights underneath, tie a long sleeve flannel around your waist, and you're already looking like half of the Punk AU art out there!
Boots, usually black. Short, tall, heeled, or flat; boots are a staple punk look.
Still lost? Let's take one character for example.
HAWKEYE.
Start with a list of what makes Hawkeye recognizable:
Purple and black costume
Belts and buckle straps
Fan of coffee
Bigger fan of his dog Lucky
Archery targey / bow and arrow symbols
Part of the avengers
Sunglasses
Then think about how to translate that into punk elements:
Do you own any purple denim? How about black?
Own any Hawkeye pins and patches? If not, can you draw the symbols to make your own patches?
Patch ideas: archery target symbol, Avengers team symbol, "I love dogs more than people", "sharpest arrow in the bunch", "warning: pointy", "caw caw", "aw coffee no", "runs on coffee".
Layer up on the black belts. You could even use smaller ones (or double them up) for arm bands or leg straps.
cool sunglasses (or really, any black or purple ones would do!)
Then with this brainstorm in your head, look through your closet and pull out anything that may work. This is the point where you put on a little fashion show (for yourself or a friend!) and play with the layering until you get something that you feel embodies the character, the punk attitude, and the Halloween spirit.
Some image ideas:
Punk Clint by Cara McGee
Punk Hawkeye by Areazel on DevArt.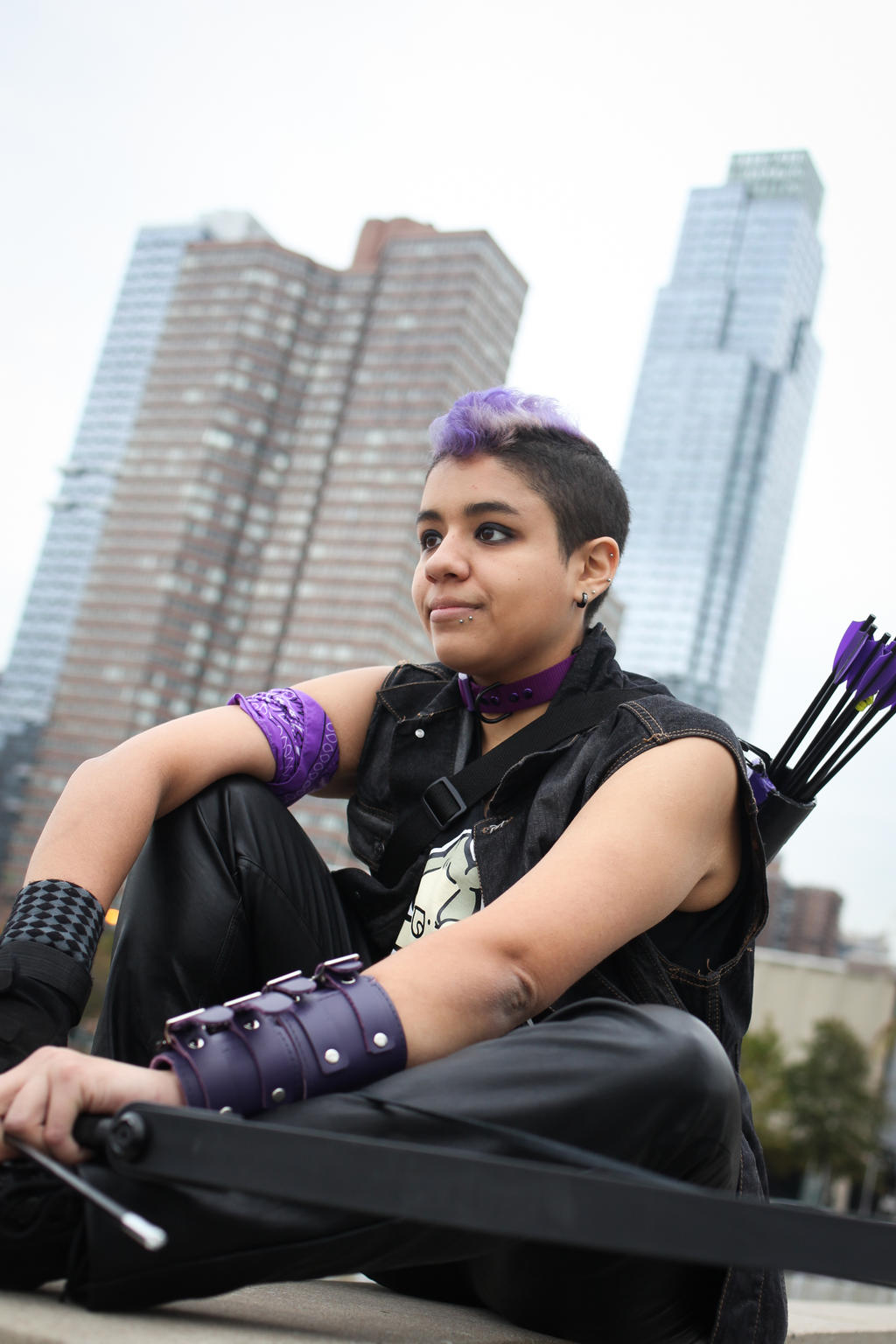 Punk Hawkeye by PunkBlack.com (and on twitter)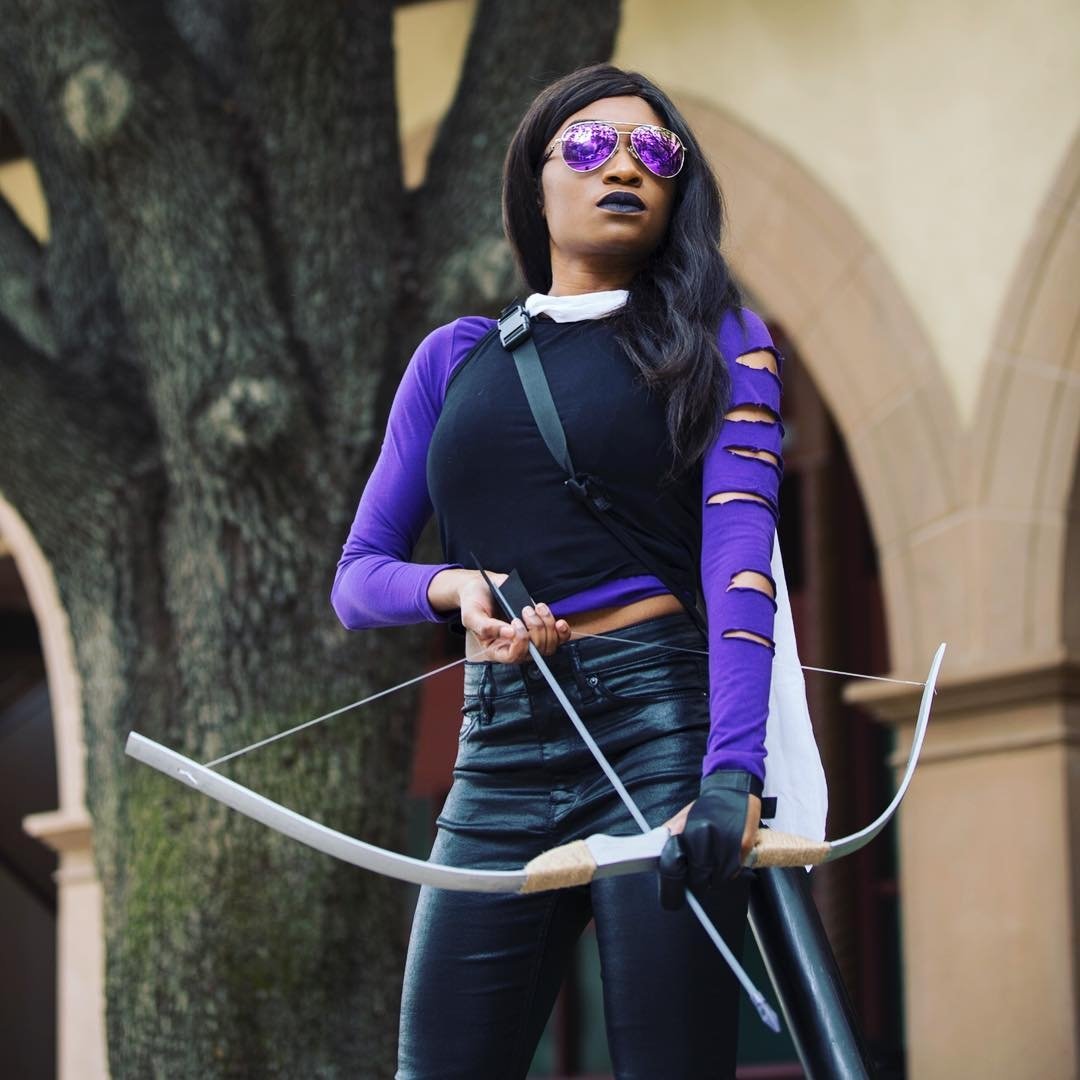 And of course if you need the perfect accessory to pair with your punk outfit, may I suggest this punk Hawkeye spike necklace or these dangling arrow earrings that you can find in the BombDotComGeekery shop?